Today, you seldom hear of people in the religious life. The O'Malley and Sheedy kids were blessed to have an aunt and an uncle in the religious life that played an important role in their early years.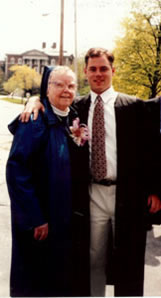 This picture shows Sister Julia at her godchild Peter O'Malley's college graduation.
Eleanor Mary O'Malley was born on July 3, 1913. She was the only daughter of Michael and Julia Keating O'Malley; she had 4 brothers -- Leo, John, Robert, and Fran. She graduated from local schools and attended Plymouth State College before working for the Internal Revenue Service. Her mother died in 1936, and in 1941 she entered the Good Shepherd Order and was named Sister Mary Julia, R.G.S. This French order was semi-cloistered and served young girls from the courts and who had troubled home or school lives. In nearly 60 years of service, she worked in Peekskill (Mt. St. Florence and Villa Loretta), Hartford (Marion Hall), Springfield (Our Lady of Lourdes) , Huntington (Madonna Heights). She succeeded and was once Mistress of Novices  and Mother Superior of several convents. She liked family (especially nieces and nephews), travel to Ireland and her Irish heritage, Jane's cooking, dogs, deserts, and fast driving. Jane remembers that she would take weekly trips to Carvel with her pal Sr. Monica and two dogs in the backseat – they ate ice cream too.  Her funeral in 2000 was celebrated by her old friend and Irish preacher, Fr. Leo Clifford, O.F.M. and she is buried among her friends at the Madonna Heights cemetery.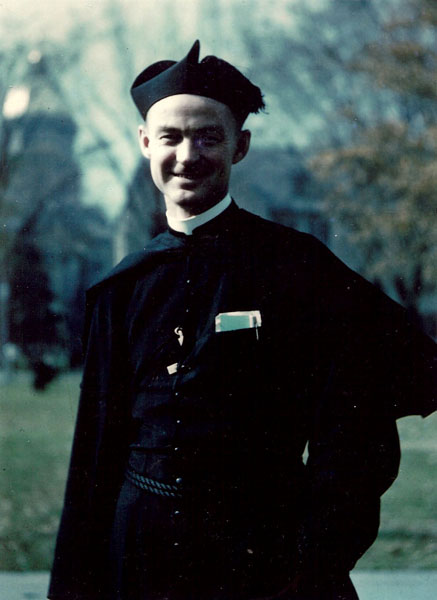 Charles E. Sheedy was born on July 1, 1912 to Patrick and Estelle Brennan Sheedy. He had 4 living brothers Morgan, Leo, Jack, and Scott. After graduating from Notre Dame and obtaining a law degree from Pitt, he joined the Congregation of Holy Cross and was ordained in 1942. He was an intellect and scholar. His book The Christian Virtues was used as a theology text at many Catholic universities. A bust of him now exists in O'Shaunessy Hall, home of the Arts and Letters school he once headed as Dean from 1951 to 1969. He had a great interest in family, sports,bridge,  and entertainment (Gene Kelly was one of his childhood friends).One niece remarked that he took great interest in each of his niece and nephew's lives.  In an interview with the Sheedy family, his great friend, Fr. Theodore Hesburgh, C.S.C. quoted Chick as saying "life is mainly showing up". Together, Fr. Sheedy and Fr.Hesburgh,  had a principal role in developing the papal encyclical defining the role of Catholic universities in the Catholic church. He died in 1990 and is buried in the Notre Dame/Holy Cross cemetery.  The Annual Award for Outstanding Teacher in the College of Arts and Letters at Notre Dame University is named for Fr. Charles E. Sheedy, C.S.C. In 2011, thirty-one Sheedy family members attended this ceremony.
Remarks by Dean John McGreevy to Sheedy family gathering at Notre Dame, September 2011
Welcome to the Great Hall.
Many, if not most, of you have walked through this Hall over the years. We thought that the Hall and this beautiful bust of Fr. Sheedy could serve as a wonderful venue to remember Fr. Sheedy and to reflect on his legacy.
We meet here in front of the sculpture of Fr. Sheedy that was commissioned by Fr. Ted and sculpted by Jerry McKenna, from the Class of 1962 (who, by the way, also sculpted the statues  of Knute Rockne and Moose Kraus on campus).
This is an appropriate space for the bust because it was under Fr. Sheedy's watch that this building, O'Shaughnessy Hall, was constructed in the 1950s. Fr. Hesburgh tells the story of walking on the grass  where O'Shaughnessy hall was about to be built with Mr. O'Shaughnessy and Mr. O'Shaughnessy deciding at the last minute that he wanted something beautiful in the building, what even then they called a great hall. And so here we are. Students and visitors alike can look up and see seven stained glass windows, each depicting one of the classic "liberal arts"—the core of a well-rounded education.
My predecessor, Mark Roche, reflected on the liberal arts in his recent book, Why Choose the Liberal Arts:
" … [T]he more broadly educated we are," he wrote, " the better we are able to place new and specialized knowledge within a larger mosaic and to ask creative questions within our discipline from a range of alternative perspectives."
The bust and this Great Hall memorialize who Fr. Sheedy was to this University. They are small symbols of his vision and his legacy—your family's legacy—here at Notre Dame.
Fr. Sheedy was, first and foremost, a Holy Cross Priest. Beyond his central identification as a Holy Cross priest, he was also an administrator, scholar, social justice advocate, and visionary. Most of what we read about Fr. Sheedy relates to his service as dean of the College of Arts and Letters from 1951-1969, the longest such tenure of any dean in the college's history.
As dean, Fr. Sheedy was committed to the vision of Notre Dame as the world's best Catholic university and one of the great universities in the world regardless of religious affiliation. He played a significant role in an early Ford Foundation grant in 1952 that enabled him to travel to other elite institutions across the country such as Princeton, Yale, Harvard,  and Columbia and an even larger role in a major Ford foundation grant of 1960 identifying Notre Dame as one of the most rapidly improving universities in the country. He was an enormously  popular and successful dean, and some of our just retiring colleagues remember him with great fondness. Just as Fr. Hesburgh built in many ways the modern Notre Dame Fr. Sheedy built the modern College of Arts and letters, with 20 academic departments, over 500 faculty, more undergraduates than any other college and 1000 graduate students. He was a proponent of co-education or the admission of women at Notre Dame when that was controversial and eager to see the university's faculty excel at research as well as teaching. He wrote books on moral theology and the Eucharistic controversy of the 11th century, even as he advocated for the abolition of the death penalty and limitations on nuclear weapons.
And he did even more. Fr. Sheedy did not shy away from the deanship and all its related responsibilities, and in fact he seemingly ran to some of the difficult University positions of the day. He was professor in the Department of Theology from 1942-1952 and 1968-1979, also serving as the department chair.
He seems also to have been a thoughtful, wry human being. I didn't know him; many of you did. He apparently read French novels with great enthusiasm and looked forward each spring to the start of baseball season. Despite service as dean – perhaps because of his service as dean – he had a mildly ironic attitude toward university bureaucracies. After all, he was thinking of more important things. The theologian Stanley Hauwerwas – now at Duke, once at Notre Dame -  wrote some years ago of his friendship with Fr. Sheedy. He said that upon coming back to campus, not long before Fr. Sheedy's death, he visited with him on a bench in front of the Main Building. They hadn't seen each other in two years. Without any pleasantries or chit-chat Sheedy sat down and said: "What do you think heaven will be like, Stanley?"
Well now Fr. Sheedy knows. On behalf of the College of Arts and Letters please accept my gratitude, my thanks to all Sheedys from near and far for visiting us at Notre Dame. Please know that your uncle's memory – in our most important teaching award, in this bust and most importantly in the training of heart and mind we attempt to provide our  students – endures in the College of Arts and Letters. Thank you.