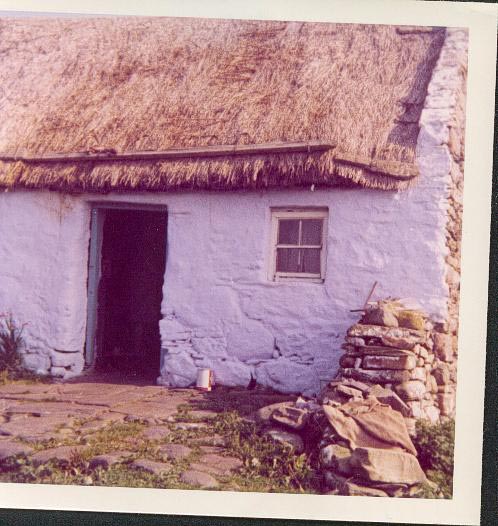 This is a 1970's picture of the O'Malley ancestral home .... this is the home that Michael O'Malley left for America shortly after the potatoe famine of the late 1840's. The home has been used by the O'Malley family as their Kinnadoohy residence until the early 1990's. Today it's thatched roof is caved in, and Una lived in a new house across the street until her death in 2000.
The home is located about 7 miles from Louisburgh and overlooks the Atlantic Ocean. It is about two miles to the Catholic church at Killadoon. The church recently celebrated it's 100th anniversary; it was completed with local funds and contributions from immigrants to America. It's builder was Walter Heneghan of Louisburgh who also built the chapel on the top of Croagh Patrick.
In this house, there were two rooms and a fireplace ... that was enough for some very large families -- many children and grandparents too.